PRCA "Exploring Internal Communications" event at Ellwood Atfield, Smith Square, London
Thursday 14th May 2015 saw a gathering of the great and the good in the communications industry come together and take a long, hard look at how Internal Communications (IC) is evolving as a discipline and practice.  
The discussions revolved around optimum ways to 'engage' with employees and in particular how a richer conversation is sought between business and these stakeholders.  The need for authentic dialogue was a recurring theme coupled with using the right tools to enable leaders to communicate with their teams effectively and with a genuine voice.
It is, argued Russell Grossman, the joint responsibility of the individual and the industry they work in to develop skills in the trade of IC and commit to a process of continuing professional development.  In other words, we should recognise the fundamental shift in our roles as communicators.  Fifteen years ago, we were reactionaries, ready to rebuff the media protagonists and then as little as five years ago, we began to integrate our efforts and embrace new communications disciplines such as social media and blogging.  
Today, we are empowered more by data, the creation of compelling (credible) content and the ability to shift mindsets on a far larger scale and within a much faster timeframe.  Some of this is achieved by greater transparency and some of it by being able to tell a good, compelling and true story.
So what next for IC?
We ran three Pulse Checks across a sample of 1300 + IC practitioners to find out what they think about :
(1) What good looks like in IC
(2) What the future holds for IC
(3) What does best practice looks like
And this is what they said: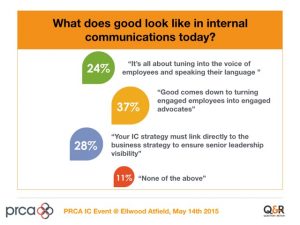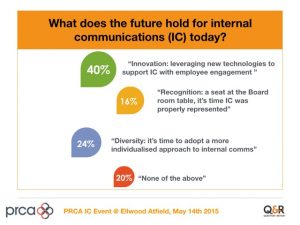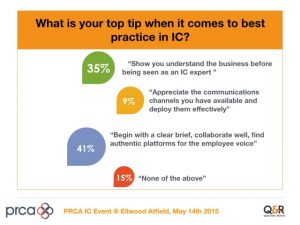 One of the most interesting comments came from one respondent saying "you don't need to turn engaged employees into engaged advocates.  If you turn employees into engaged employees (this is the real challenge), you automatically gain engaged advocates."
On the topic of the future, the answer is that personalisation is the way forward because people want 'less broadcast and more constructive conversations – whether they are digital or real-world.'  
And finally, when it comes to top tips and best practice, it's all about understanding the business better to deliver effective results.  One respondent mentioned the need to keep learning and perhaps therein lies the key.
What the event did was throw up a lot of fresh observations as to how we can move this emergent communications discipline forward to centre stage.  
Perhaps the jewel in the crown lies in how you determine and understand the 'emotional' sentiment behind the actual numbers of your average employee engagement survey. You may be able to claim to have a motivated workforce but all too often it's the words people use that give a greater and more accurate context to what the true story is
The event was chaired by Liam Fitzpatrick, Consultant and Author kicking off with the first panel discussion: How to handle internal communications crises with guest panellists:
Gabi Ioan, Programme Engagement and Change Consultant, Vodafone Group
Lizzie Barrett, Associate Direcotr, Employee Engagement, Olgivy PR
Duncan White, Director, The News Academy at News UK
Guest speakers were:
Jim Donaldson, Senior Partner and MD, FleshmanHillard – Employees as a Channel
Russell Grossman, Group Director of Communications, Department for Business – developing talent in Internal Communications
The final panel was chaired by Imogen Osborne, Co Founder, Q&R: Top tips for internal communications excellence with guest panellists
Amanda Coleman, Head of Corporate Communications, Greater Manchester Police
Liz Smith, VP Director of Global Internal Communications, Elsevier
Kevin Ruck, Co Founder, The PR Academy
For more details see @qandr  ExploringIC