Building on our Pulse Check among 2000 senior professionals conducted at the end of last year…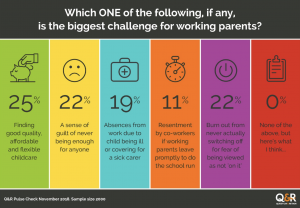 …we invited Anthony Fitzpatrick, Head of Employee Relations & Global Employment Policy, Aviva People Function, to tell us more about the game changing strategies they have deployed to up the ante on Diversity and Inclusion at Aviva.
We hear the phrase 'game changer' bandied around all the time these days. So, has it lost its impact? At Aviva we don't think so. When we launched our new equal parental leave policy in November 2017, we knew that this was something so fundamentally different and market-leading, there was no way back. We knew that the impact on the lives of our employees and their families would be immense, that they would feel the benefits of spending precious time with their loved ones. But our decision went beyond our people and beyond Aviva. We wanted companies and society as a whole to sit up and think differently; to move away from established – often binary – thinking, to a new, fresh and exciting culture.
To create a truly inclusive organisation it's important to foster trust, openness and diversity; recognising and mirroring your customer and society in your workforce. It is critical that all employees feel valued, trusted and able to be themselves. In this way, they will be more highly motivated and engaged. This is good for them and good for business.
Equal parental leave was just one of a suite of policy changes that have been introduced over the past 18 months across Aviva. We also enhanced our sickness offering, introduced paid Carer Leave and a new Conflict Resolution & Mediation policy. All of these changes are founded on our corporate values. For example, one of our core values at Aviva is "care more". It's vital that we care about our customers and our people. And this is brought to life through our employee policies. We recognise that our people have lives and responsibilities outside of work. So, if we are going to get the best from them, we need to support their work/life balance – so they can bring their whole selves to work and give the best to our customers.
Every people policy should have a company's values at its core. So, it's important for organisations to consider some philosophical points: They might ask themselves "Who are we and what type of organisation do we want to be?" Once these points have been determined, the values should flow directly from them, and in turn, the policies directly from these values.
At Aviva we want to be more agile, simpler and unafraid to try new ways of working. We want to create an environment with less rigidity and less bureaucracy, and with greater empowerment. We are piloting new ways of working but ensuring that our people have a voice and are part of the solution. It's not just about working more flexibly; it's about working smarter. If we can do that, we will drive greater inclusion.
So, whether people are parents or carers, millennials or older workers, it's vital that they feel at home in their workplace. If an organisation has values which resonate with its people and policies which support them and their families, this a big step forward to creating a culture that works for everyone.
For further details on the Pulse Check results and the accompanying comments please contact us at tellmemore@questionandretain.co.uk