The mental health of furloughed employees in the marcomms sector is being impacted more than colleagues still in employment and working from home (wfh).
Research conducted by Q&R on behalf of Marketing Agencies Action Group (MAAG) between 24th April and 19th May among 100 furloughed employees found that the average mental health score was 64% compared to 72% of those wfh*.
Furloughed employees are often in the minority in their company and whilst they appreciate being furloughed is better than zero pay, they do feel as if they are on a rollercoaster of anxiety and constant fear of redundancy.
As one respondent put it: "It is very up and down. I rely on good family and friends support and I know my employer is doing their best, but I do feel cut off and no sense of purpose day to day".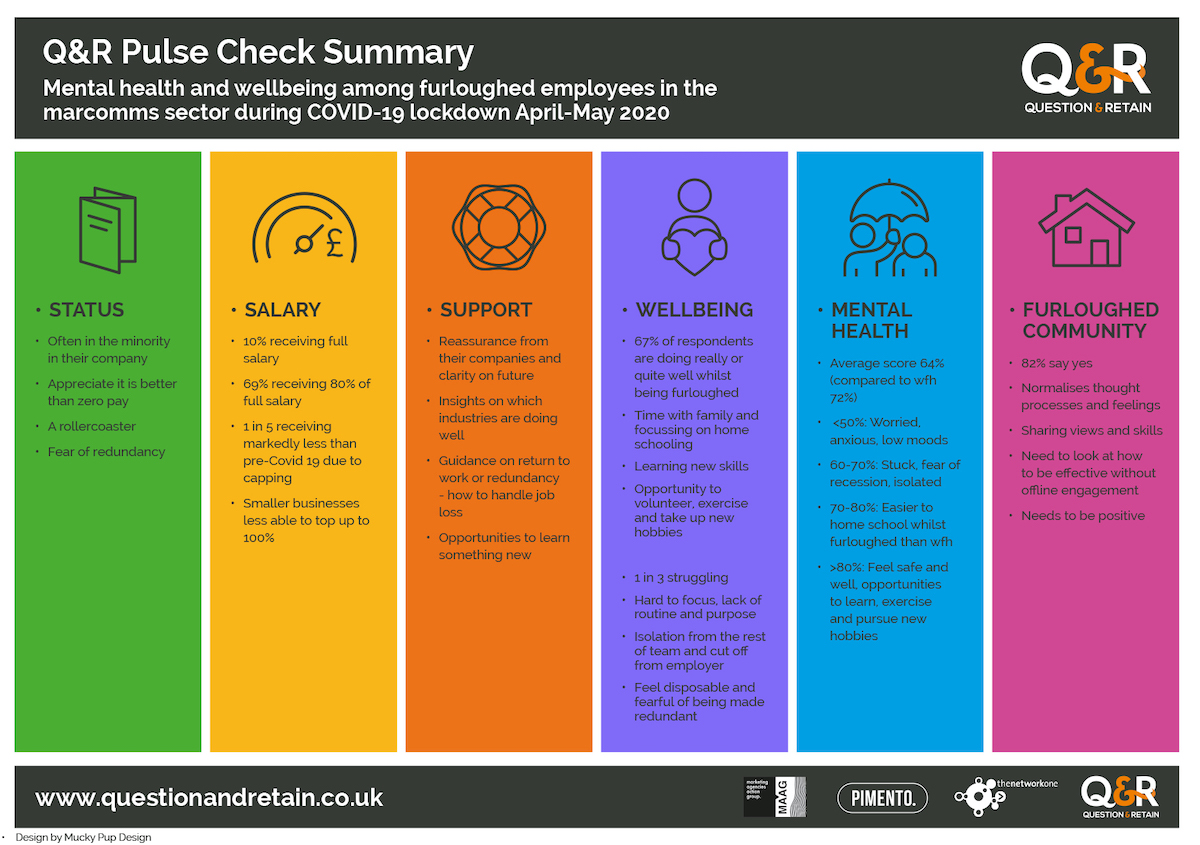 Five key themes were identified as follows:
DIFFERENCES IN SALARY 
10% receiving full salary

69% receiving 80% of full salary

1 in 5 receiving markedly less than pre-COVID 19 due to capping

Smaller businesses less able to top up to 100%

WHAT FURLOUGHED STAFF WANT IN TERMS OF SUPPORT
Reassurance from their companies and clarity on the future

Insights on which industries are doing well

Guidance on return to work or redundancy – how to handle job loss

Opportunities to learn something new
SENSE OF WELLBEING
67% of respondents are doing really or quite well whilst being furloughed

Enjoying time with family and focussing on homeschooling

Learning new skills

Opportunities to volunteer, exercise and take up new hobbies

1 in 3 struggling 

Hard to focus, lack of routine and purpose

Isolation from the rest of the team and cut off from their employer

Feel disposable and fearful of being made redundant
MENTAL HEALTH SCORE
Average score 64% (compared to wfh 72%)

<50%: Worried, anxious, low moods
60-70%: Stuck, fear of recession, isolated
70-80%: Easier to home school whilst furloughed than wfh
>80%: Feel safe and well

>90%:

Opportunities to learn, exercise, pursue new hobbies
APPETITE FOR A FURLOUGHED COMMUNITY
82% say yes

Would help to normalise thought processes and feelings

Opportunity to share views and skills

Need to look at how to be effective without offline engagement

Needs to be positive

 
Graham Kemp, Founder, MAAG, commented: "We launched Independents FC for the furlough community, with our partners Pimento and thenetworkone, because we heard that employees were being cut off from their agencies but could still be training. Our ambition was to create a community that would feel connected, stay informed and even use the downtime to pick up new skills and knowledge. Knowing that 82% of our survey said that they valued the community is highly rewarding".
If you are currently furloughed and want to connect with others in marcomms in the same or similar position, please join Independent FC.
*Q&R Pulse Check research carried out among c2500 marcomms employees wfh between 9th April -15th May 2020